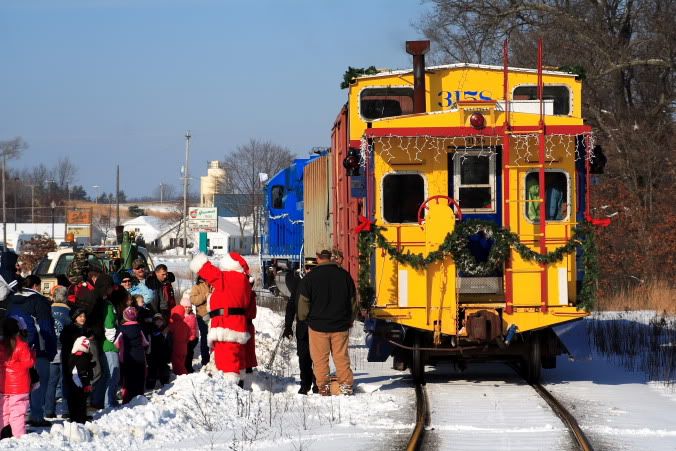 When our family first move
d to Ludington, we got to know of a neat thing that happened each year, called the "Santa Train." The local freight railway had Santa and his elves stop at all of towns along the railroad and Santa would greet all of the children and pass out candy.
Our two oldest boys thought that was amazing! They both loved trains. In Germany we traveled by train all of the time, but since being back in the United States, which doesn't really have the train culture that Germany has, this was great. Our boys were also quite familiar with the book and movie,
The Polar Express
, and thought that this would be something similar. Our youngest son had just been born a month ago. So his excitement was geared more towards milk, sleeping, and cuddling.
When we came up to the train, there was Santa with his elves! All the children were scrambling to get close to him to touch him and tell him what they wanted for Christmas. When my oldest son, Zachary, came up to Santa, the bearded gentleman asked him, "What's your name, little boy?" My son was suddenly shocked and became quiet as he told him his name.
Afterwards, while we were going back to the car, Zachary began to cry and said, "Santa doesn't even know my name!"
My son learned a hard lesson that day. Santa was not omniscient.
There is was something that I could do for him, though. God knows him. God loves him. I told him that even though Santa might not know him, God does know him and cares for him deeply.
Now, I won't get into the huge debate about whether God is omniscient, too. As an Open Theist, I believe he restricts his knowledge in this regard; however, I do love the German expression of "kennen," which means "to know intimately." In that way, God knows us personally and intimately. I love this about God.
As the Psalmist says, "
Lord

, you have examined me.
You know me." (Psalm 139:1)
I hope that you will also get to know our Lord more personally in this Advent Season!